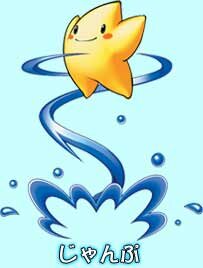 De manera preliminar, ya se encuentra disponible en línea el sitio web de Densetsu no Stafi 4, la siguiente encarnación de la serie del mismo nombre que llegará al Nintendo DS. La verdad, es ciertamente molesto porque Nintendo de América no se ha animado a traer los juegos (tres para el GBA) protagonizados por esta simpática estrella de mar a nuestro continente.
El modo de juego de los Densetsu no Stafi es semejante a una mezcla entre los juegos de platafoma de Kirby y de Wario: originalmente, el primer juego de la serie aparecería en el Game Boy Color, pero el proyecto fue cancelado y trasladado al GBA. La compañía encargada del desarrollo de esta franquicia es TOSE, que entre sus trabajos más recientes se encuentran Tim Burton's The Nightmare Before Christmas: The Pumpkin King (GBA) y Sega Casino (NDS).
Supongo que en los próximos días el sitio web será actualizado, y más teniendo en cuenta que la fecha que aparece en éste, 18 de diciembre del 2005, es probablemente su fecha de salida.