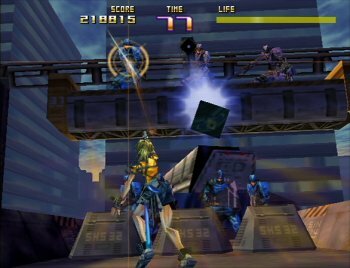 En la versión anterior de Universo Nintendo, cuando este weblog estaba basado en Blogger, publiqué una entrevista que Game Informer le realizó a Masato Maegawa, Presidente de Treasure. En aquel entonces, mucho antes de que se hablara de la consola de nueva generación de Nintendo, Maegawa mencionó que el estudio estaba considerando una secuela de Sin & Punishment: Successor of the Earth (N64), y que lo que más cuidarían era que mantuviera un alto estándar de calidad. Después de aquella vez, muchas cosas han pasado: ahora el juego esta disponible en la Consola Virtual, donde se ha convertido en uno de los más descargados, e incluso el equipo de Masahiro Sakurai, si hacemos caso de Destructoid, ha incluido un personaje del juego como asistente.
Ante este panorama, no resulta extraño que los chicos de Nintendo Power dicha pregunta al líder de Treasure, recordándole lo que dijo hace un par de años. Ante esta interrogante, Maegawa les respondió que cuando se encontraban trabajando en el lanzamiento de este título de culto para la VC, se discutió en como emplear los controles de la consola, que ahora que se encuentran trabajando en el sistema más que nada (tienen un título no revelado en desarrollo), retomar la idea no sonaba nada mal y que sería algo que les gustaría intentar. Ante esta declaración, nos queda claro que el juego que están haciendo para Wii no es la secuela de Sin & Punishment, como algunos medios especularon hace algunas semanas.
Que bueno que Treasure todavía tenga en mente dicha secuela: un juego de acción de este tipo puede sacarle mucho provecho al Wiimote+Nunchuck, y es una serie de la Gran N que merece ser revivida. Este es el mejor momento para hacerlo.