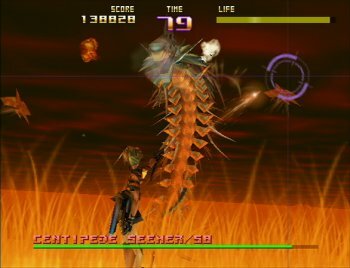 Estamos de manteles largos: por fin NOA nos trae los primeros juegos para la Consola Virtual, que nunca vieron la luz en nuestro continente de manera oficial. Ahora, por medio del Wii Shop Channel, podemos adquirir a dos joyas de todos los tiempos: el primero de éstos es Super Mario Bros.: The Lost Levels (NES, un jugador, 600 Wii Points), el cual solo tuvimos la oportunidad de probarlo remasterizado en esa maravillosa compilación que salió para el SNES hace varios años, llamada Super Mario All-Stars. Esta es la verdadera secuela de Super Mario Bros. (NES) y comprende una serie de elementos que lo hacen mucho más difícil que el anterior, además de que hay algunas sutiles diferencias entre Mario y Luigi. Es una versión creada por y para expertos, que aún hoy tiene un nivel de reto elevado, excelente para los fans de hueso colorado del plomero italiano.
El otro título disponible ahora, es Sin & Punishment: Successor of the Earth (Nintendo 64, 1-2 jugadores, 1,200 Wii Points), una mezcla entre un TPS y On-Rail Shooter que constituye una de las grandes creaciones de Treasure para esta consola. Según se comenta en el comunicado oficial emitido por la Gran N, este juego contiene diálogos completos en inglés, pero los subtítulos se encuentran en japonés, igual que en el original. La trama, situada en un futuro no muy lejano donde la Tierra sufre de una sobrepoblación y una crítica escasez de recursos naturales, narra la historia de dos adolescentes, Saki Amamiya y Airan Jo, y la cruzada que siguen en contra de los Ruffians.
Cabe señalar que este juego tiene un costo algo mayor que los demás títulos del N64: pero debido a su rareza y su gran calidad, podríamos decir que bien lo vale. Tantos años han pasado, y por fin podremos disfrutarlo.