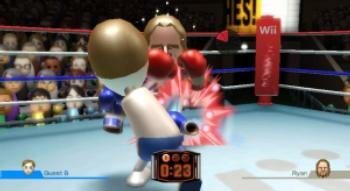 Al menos esa es la opinión de los editores de la revista TIME, una de las más renombradas y populares publicaciones de los Estados Unidos, quienes consideran que a pesar de los gráficos sencillos de esta compilación de juegos deportivos, bastante alejado del glamour visual de otros títulos y grandes superproducciones, merece estar en primer lugar de los 10 juegos del año.
De hecho, en TIME comparan a Wii Sports con los títulos clásicos de la veterana consola Colecovision, que apareció a inicios de la década de los 80's: destacan lo divertido que es emplear el wiimote y la gran ventaja de que esta compilación venga incluida con la consola (lo cual fue uno de los grandes aciertos de la Gran N).
¿Emulará Wii Sports a otros juegos como Super Mario Bros (NES), Tetris (GB) o Super Mario World (SNES), que se convirtieron en algunos de los más vendidos al ir incluidos con sus respectivas consolas? Una posibilidad bastante interesante que no debe tomarse a la ligera. Otros de los títulos para sistemas de Nintendo contemplados por TIME son New Super Mario Bros. (NDS, No. 3) y The Legend of Zelda: Twilight Princess (Wii, No. 4).