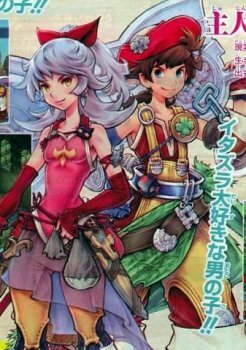 Anunciado el pasado 13 de diciembre junto con otros títulos, Final Fantasy Tactics A2: The Sealed Grimoire (NDS), secuela de la versión anterior del GBA, ha estado rodeado por un absoluto silencio desde su revelación. Sin embargo, el velo tendido por Square-Enix comienza a levantarse: nueva información recientemente publicada por la revista japonesa Shonen Jump (incluidas las primeras imágenes) da a conocer que esta vez controlaremos a dos héroes, chico y chica, cuyos nombres son Luso y Adel, respectivamente.
Luso, que cuenta con un gran sentido de la justicia, a pesar de su juventud, ejerce su profesión de maestro de escuela; por su parte, Adel es todo lo contrario. Ella cree que lo más importante en el mundo es el dinero, y ejerce el oficio de ladrona, siendo conocida en el bajo mundo como Adel la Feline (veamos como adaptan el nombre en Occidente). Ciertamente, la información en torno a Final Fantasy Tactics A2: The Sealed Grimoire (NDS) es aun escasa, pero al menos ya tenemos idea de como se verá.
Ahora solo falta ser pacientes, y esperar que Square-Enix revele más datos: una ocasión ideal sería sin lugar a dudas el evento que realizará la compañía el próximo 12 y 13 de abril.