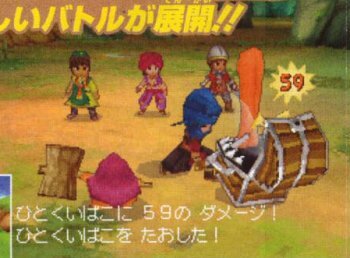 No hay juez más cruel que los fanáticos de hueso colorado de una serie… y Square-Enix lo sabe (no por algo tiene tanta experiencia en el medio). Saliendo un poco al paso de las críticas recibidas en torno a Dragon Quest IX: Protectors of the Sky (NDS), de que el juego estaría más orientado a la acción en lugar de ser un clásico RPG por turnos, una de las piezas fundamentales de DQ, ha anunciado en la revista japonesa Shonen Jump que este último elemento no estará del todo descartado.
¿A qué se refiere con esto? Simplemente, que los combates que realizen los jugadores en el modo multijugador si se serán por turnos, al viejo estilo tan usual (y querido), por los seguidores de la serie, de una manera semejante a Dragon Quest VIII: Journey of the Cursed King (PS2). Los enemigos serán visibles en el campo de batalla, en entornos 3D, y las acciones se realizarán por medio del sistema de menús de toda la vida.
DQ IX: Protectors of the Sky (NDS), incluirá varias opciones de personalización (Character Making), de manera que cada jugador pueda agregar su propio estilo al personaje que maneje: así, podrá elegirse el peso, altura, corte de cabello y traje, a fin de diferenciarse lo suficiente de los demás participantes.
La información proviene de este pequeño artículo de Game|Life: scans de Shonen Jump pueden ser apreciados en esta nota de Jeux-France.