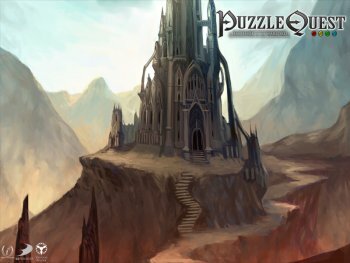 No suelo hacer mucho caso de noticias en donde de la noche a la mañana aparecen juegos listados para un sistema, porque a veces suele suceder que en realidad esto no llega nunca a pasar, pero hago una excepción. Y es que, me es harto difícil creer que un sitio de ventas en línea con tanto prestigio a nivel mundial como lo es Amazon.com, haya enlistado nada más porque si a uno de los mejores puzzles de los últimos tiempos, para la más reciente consola casera de Nintendo, Wii: Puzzle Quest: Challenge of the Warlords (NDS/PSP), por el módico precio de USD$29.99.
Si, esa deliciosa fusión de géneros (Puzzle+Estrategia+RPG), que fue tan bien recibida por la crítica durante este año y la cual esta basada en el universo de Warlords. La publicación al parecer corre a cargo de D3 Publisher y por deducción, supongo que de nuevo el trabajo corre a cargo de Infinite Interactive. Ante lo sorpresivo del anuncio y careciendo de una confirmación 100% oficial, no es posible ni siquiera especular que incluirá esta versión para Wii, así que será mejor tener paciencia y ver si la noticia se confirma o no de manera definitiva.
El responsable del descubrimiento de la ficha del juego en Amazon.com es GoNintendo. La fecha de salida tentativa es el 25 de septiembre del año en curso en América.