Ciertamente extraño, pero según se ha dado a conocer, Sega ha tenido la idea de traer a América uno de los juegos más aceptados (al menos en Japón), para el Game Boy Advance. Se trata de The Tower SP, que llegará a nuestro continente en el mes de mazo del próximo año.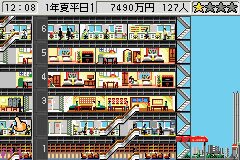 ¿Por qué me parece extraño que este juego sea traído por Sega a América? El caso es que este The Tower SP, una adaptación del juego de PC SimTower realizada por la compañía Vivarium (quien también esta desarrollando Odama para el GCN), fue publicado originalmente por Nintendo en el país del Sol Naciente. Al parecer, la Gran N no tenía idea si la idea de este juego funcionaría al otro lado del océano y decidió que otra compañía se arriesgara, en un movimiento semejante al de Cubivore (GCN), que fue publicado en América por Atlus.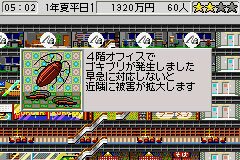 El objetivo del juego es diseñar, mantener y manejar su propio rascacielos, teniendo el control de toda la gente que vive, come, trabaja y hace sus compras en ese lugar. Aparentemente, todo normal, pero no es así, ya que los jugadores deberán de lidiar con invasiones de cucarachas, incendios y robos para mantener felices a los inquilinos.
Si desean ver imágenes del juego (en su versión japonesa), esta es su página oficial en el sitio web de Nintendo de Japón. La información proviene de IGN.