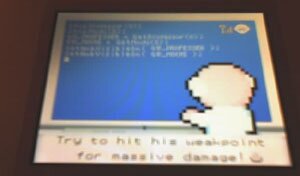 Conste, este artículo no tiene como fin atacar a Sony o a sus consolas: simplemente es una referencia acerca de lo que los representantes de esta compañía, dijeron durante su presentación en el marco del E3 2006. En sus propias palabras, al estar pasando un video acerca de Genji 2 (PS3), mencionaron:
"based on authentic battles in Japanese history…so here's this giant crab; try to hit his weakpoint for massive damage!"
Esta cita ha sido motivo de innumerables chascarrillos y chistes a lo largo y ancho de la WWW (solo vean )… y ahora, tal parece que se ha incorporado a un juego del NDS, Contact, un RPG desarrollado por Grasshoper Manufacturer (si, el estudio de Suda 51) y que será traído a nuestro continente por Atlus USA. En una escena, El Profesor (uno de los personajes), dice:
"Try to hit his weakpoint for massive damage! =)"
Curioso ver como esta expresión, tomada a chiste por algunos, ahora se verá inmortalizada en un videojuego. La información proviene de ToastyFrog, y la cita que aparece en la imagen anexa a esta entrada ha sido validada ya por Tomm Hulett, parte del equipo de traducción de Contact en América, a Joystiq.
Por cierto, también hay cangrejos incluidos en el juego ;)… para rematar.