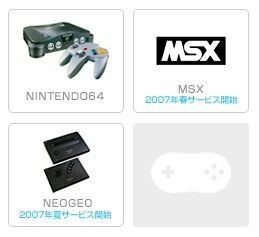 Nintendo continúa haciendo las alianzas correctas: ahora, gracias a diversos acuerdos, ha logrado (al menos en Japón), que títulos provenientes de los sistemas Neo Geo y MSX, que alguna vez fueron sus competidores, estén disponibles para ser disfrutados por los antiguos y nuevos jugadores en la Consola Virtual.
Con respecto a MSX, solo se han mencionado por el momento dos títulos, Aleste y Eggy, aunque creo que lo que muchos estarán esperando, es que Konami publique el clásico Metal Gear en su versión original. Y en cuanto a Neo Geo, todavía se desconoce cuales serán los títulos que estarán disponibles, aunque entre su gloriosa librería se encuentran grandes nombres como King of Fighters, Metal Slug, Fatal Fury, Art of Fighting, Samurai Shodown o Last Blade… menudo banquete para el fan de los juegos de pelea, y más si tenemos en cuenta que el Control Clásico es una buena opción para disfrutar de estos juegos :D.
¿Qué seguirá después? Ojála Sega se animara, y Wii en el futuro sea capaz de reproducir juegos del DreamCast. Ah, y antes de que pregunten, todavía no se ha mencionado si la compatibilidad con MSX y Neo Geo llegará a Occidente: espero que así sea. La información proviene de Gamasutra.