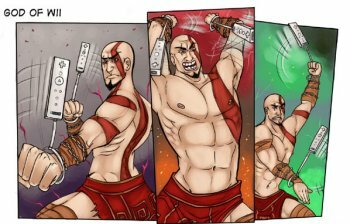 ¿Ironía del destino? Si, tal vez eso es lo que me viene a la mente cuando veo este comic, títulado God of Wii, creado por uno de los integrantes de la comunidad de devianART, en donde vemos al carismático Kratos manejando sus espadas… perdón wiimotes, con su inigualable estilo.
No tengo la menor idea si el autor (enerjak), estaba enterado de las declaraciones del director Cory Barlog, quien estuvo detrás del desarrollo de God of War II (PS2), y que generaron un poco de polémica la semana pasada, ya que al obtener como regalo la nueva consola de Nintendo, señalaba que su entusiasmo se había disipado poco a poco, y que la innovación detrás del wiimote no le satisfacía.
Desde luego, Barlog es libre de opinar lo que quiera y más en la Internet: aunque, según parece, el mismo reconoció que algunas de las cosas que dijo necesitaban algunas aclaraciones, las cuales pueden leer en esta entrada de su weblog personal.