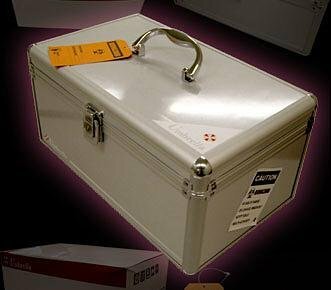 Archiconocido es que cuando se trata de lanzar productos promocionales para promocionar sus videojuegos, las compañías japonesas suelen ofrecer una gran cantidad de curiosidades: y Capcom no es la excepción a esta regla. Ahora, por medio de de , me entero que el 31 de mayo estará disponible una edición limitada de Resident Evil: The Umbrella Chronicles (Wii), la cual vendrá dentro de una caja de metal con los logotipos de Umbrella Corporation.
Otros artículos incluidos junto con la caja son un manual de instrucciones, dos tipos de cintas con leyendas de precaución y un par de llaves. Se ve como un bonito artículo de colección, bastante útil para guardar diversas cosas: pero como siempre, su aparición en occidente esta más que en duda. Ojalá en América si vieran cosas semejantes.
Actualización: 20 de mayo del 2007. Corrección: esta bonita caja de aluminio no incluye una copia del juego. Parece ser que mi fuente es errónea, así que solo se trata de más mercadotecnia para apoyar la salida de Resident Evil: The Umbrella Chronicles (Wii). Mil perdones para los que se fueron con la finta (incluyéndome).