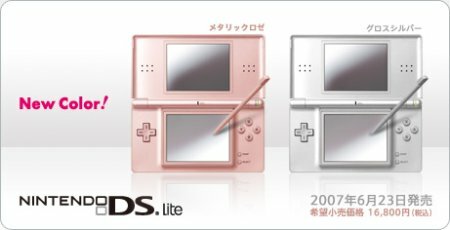 ¡Al fin! Creo que la Gran N ya se había tardado bastante en lanzar nuevos colores del NDS Lite, porque la verdad, ya extrañaba este tipo de acciones. Durante una conferencia con representantes comerciales, Nintendo de Japón mostró dos nuevas versiones de esta portátil, las cuales responden al nombre de Metallic Rose y Gloss Silver, con tonalidades metálicas en rosa y plata, respectivamente.
Se ven bastante elegantes, aunque espero que en un futuro no muy lejano lancen una versión roja o verde del DS Lite: digo, para tener un rango de matices más completo. Su fecha de salida programada es el 23 de junio. Además de esta revelación, se dieron a conocer cuando se publicarán algunos juegos para el NDS y Wii en el mercado japonés:
Chibi Robo DS (NDS) - 5 de Julio
My Housekeeping Diary (NDS) - 12 de Julio
Mario Party 8 (Wii) - 26 de Julio
Slide Adventure Magkid (NDS) - 2 de Agosto
Donkey Kong Jungle Climber (NDS) - 9 de Agosto
Y para continuar haciendo agua la boca, Nintendo, volvió a publicar imágenes de The Legend of Zelda: Phantom Hourglass (NDS), donde se nota la gran dedicación que los estudios internos de la compañía están dedicando a este título.