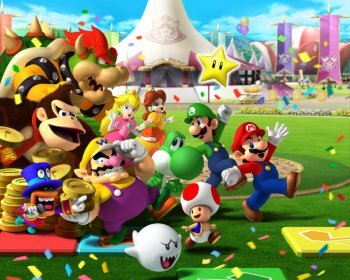 Los críticos lo detestan, pero a pesar de todo, los Mario Party son una de las franquicias derivadas del plomero italiano que más venden, a pesar de que sus principales fallas son generalmente el poco avance en gráficos entre un título y otro, y la casi nula diversión para un solo jugador… esto último completamente comprensible en un título enfocado al 100% en la convivencia de varios participantes.
Debido a esto, no es sorprendente que las ventas de la más nueva versión, Mario Party 8 (Wii), hayan sido harto cuantiosas: en tan solo tres días desplazó 314,000 unidades en los Estados Unidos, y a la fecha, según un comunicado oficial de Nintendo, desde su salida el 29 de mayo, se han vendido 550,000 copias, convirtiéndose en el título más rápidamente vendido de la serie. Esta franquicia, desarrollad por Hudson Soft, se ha convertido en una de las más satisfactorias para la Gran N.
Además de esta información y aprovechando esta nota, Nintendo dio a conocer la fecha de salida de The Legend of Zelda: Phantom Hourglass (NDS), la cual esta planeada para el 1o. de octubre de este mismo año, mientras que Metroid Prime 3: Corruption se retrasa al 27 de agosto. Por cierto, se han publicado imágenes con mejor resolución de este último juego, vía GamePro, las cuales se ven a todas luces grandiosas.