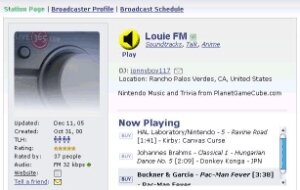 Vaya, pues según veo en esta nota de Planet GameCube, este sitio web acaba de lanzar una estación de radio en Internet que transmite música de videojuegos en vivo las 24 horas. El repertorio es bastante amplio e incluye música de los siguientes juegos:
Soul Calibur II
Legend of Zelda series
Donkey Kong Jungle Beat
Sonic series
Capcom vs SNK 2
Guilty Gear X
Golden Sun
Megaman series
Goemon series
Mario & Luigi: Superstar Saga
F-Zero GX
Castlevania series
Mario Sports series
Star Tropics
Super Smash Brothers
Skies of Arcadia
Phoenix Wright: Ace Attorney
Para escuchar la música, simplemente hay que seguir estos sencillo pasos:
Ir al sitio http://www.live365.com
Crear una cuenta (el registro es gratuito).
Entrar a la cuenta de Live365
Presionar el botón PLAY que aparece en la página, lo que povocará que aparezca una ventana emergente y se descargue un archivo .pls, que abrirá algún reproductor MP3.
Relájate y disfruta
Debo decir que no es 100% obligatorio registrarse (yo en estos momentos estoy escuchando sin problema los temas musicales). Aunque supongo que algún beneficio ha de obtenerse registrándose, pero no estoy seguro.