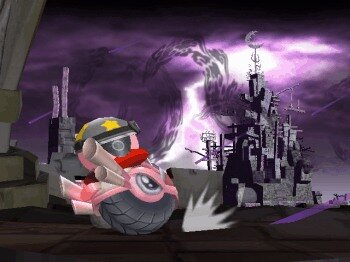 Interesante información aparece ventilada en un documento oficial (en formato PDF) de Nintendo de Japón, donde además de dar datos acerca de la información financiera de la compañía, se revelan las fechas de lanzamiento de diversos títulos, así como proyectos que están en marcha y que se había pensado tentativamente, que habían sido cancelados.
Nintendo apoya hasta el final al GCN en lo que resta del año, con Super Paper Mario (3 de agosto) y Donkey Kong Bongo Blast (10 de agosto). Otros proyectos están planeados para salir durante el 2006, pero no se ha especificado su fecha exacta, como Kirby Star, del que por fin se sabe que continua en desarrollo, y The Legend of Zelda (aún sin nombre oficial para Japón). No hay fecha todavía para Geist ni Eyeshield 21, del que se había rumorado su existencia, pero no se había confirmado. Tal vez algunos proyectos sean llevados a Wii, lo que sería mejor a cancelarlos.
También aparecen listados títulos para Wii, pero ninguno tiene fecha de salida todavía, mientras que el GBA se despide aparentemente con la serie bit Generations (antes Digitilysh), que incluye los siguientes títulos, que saldrán a la venta durante este año: dotstream, BOUNDISH y DIALHEX, el 13 de julio, COLORIS, DIGIDRIVE, ORBITAL y Soundvoyager, el día 27 de ese mismo mes, y el último, Rhythm Kingdom, el 3 de agosto.
El NDS tiene una nutrida lista de lanzamientos, muchos de los cuales fueron exhibidos en el E3 2006 o ya salieron en América, como son Metroid Prime Hunters (1o. de junio), Magical Vacation 2 (22 de junio), Project Hacker (13 de julio), You Talk! DS Cooking Nabi (20 de julio), Mario Basketball 3 on 3 (27 de julio) y Star Fox Command (3 de agosto).
Los esperados Pokémon Diamond y Pearl, saldrán a finales de año, con fecha aun por especificar, mientras que la secuela de Jump Superstars, durante el invierno. Títulos como Wishroom (Hotel Dusk), Custom Robo DS, Tingle RPG, Wario Mysterious Thief y Archaic Sealed Heat (ASH), están planeados para este año, pero no tienen fecha precisa de salida.
Otros desarrollos, con nombre aún tentativo para Japón, como son Kanji Writing Training, DS AIR, Kirby DS, Legend of Zelda (este es TLOZ: Phantom Hourglass), Chibi Robo! DS, Donkey Kong King of Swing DS, Mario vs. Donkey Kong DS y Yoshi's Island 2, no tienen fecha de salida, así que supongo que estarán destinados para el próximo año. Me enteré de esta información gracias a .