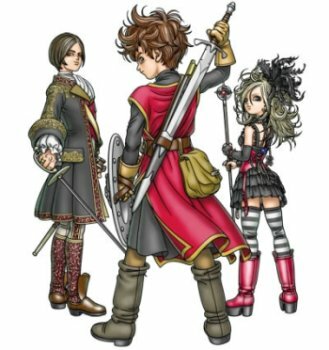 Vía este artículo de Siliconera, me entero que Dragon Quest Swords: The Masked Queen and the Tower of Mirrors (Wii), además de incluir el modo de juego principal, incluirá uno que otro minijuego: el revelado hasta el momento es Time Attack Slime 100, en el cual el jugador deberá de eliminar un centenerar de esas adorables gotas de gelatina llamadas slimes (clásicas de la serie) lo más rápido que sea posible.
Este extra no es nuevo: ya se encontraba presente en Kenshin Dragon Quest: Yomigaerishi Densetsu no Ken, título que Square-Enix creó anteriormente y que es el antecesor de este spinoff de la serie DQ. Otro detalle que se ha agregado al juego para Wii, es la presentación de ataques cooperativos, de los cuales Famitsu (fuente de la información original) ha dado conocer dos de ellos: el Pink Typhoon con Setia y Medoroa con Dean, protagonistas de este título.
Con una fecha proyectada para el 12 de julio en Japón, y para América tentativamente para el próximo año, DQS: The Masked Queen and the Tower of Mirrors será uno de los títulos más fuertes del año para la consola, y que posiblemente dará un empujón muy fuerte en las ventas del sistema en su país de origen.