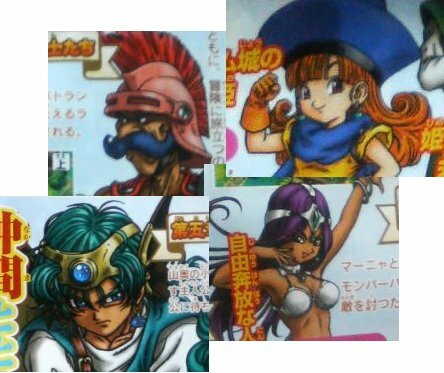 Aquellos que conocen un poco del irresistible atractivo que tiene la serie de Dragon Quest en Japón, conocen a fondo las implicaciones de la noticia que se reveló el día de hoy, por medio de la última edición de la revista Shonen Jump. Square-Enix, reiterando nuevamente su apoyo al NDS que le ha otorgado jugosos dividendos, ha anunciado (vía Jeux-France) que se encuentra trabajando en una serie de remakes para el sistema, más concretamente Dragon Quest IV (NES), V y VI (estos últimos aparecieron en el Super Famicom).
Por lo que puede verse, un rumor que hace tiempo fue publicado por la revista americana EGM se ha convertido en realidad: se planea que la cuarta entrega de la serie salga en el país del Sol Naciente a finales de este año, mientras que los otros dos saldrán en el 2008. El estudio encargado de estas adaptaciones es Artepiazza, detrás del desarrollo de Opoona para Wii, curioso RPG que será publicado por Koei.
Esperemos que dentro de poco tiempo se confirme si estos tres juegos llegarán a América y Europa, ya que Dragon Quest V y VI han brillado notablemente por su ausencia en Occidente: ojala esta lamentable historia no se repita. Con este anuncio, prácticamente esta serie ha regresado con todos los honores a los sistemas de Nintendo, especialmente para el NDS, donde ya hay dos juegos a la venta, como son DQ Monsters: Joker y DQ Heroes: Rocket Slime, y esta en proceso otro más, DQ IX: Defenders of the Starry Sky, mientras que en menor grado Wii, con DQ Swords: The Masked Queen and the Tower of Mirrors.