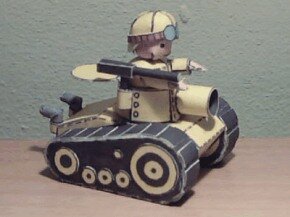 Para aquellos aficionados a expresar su creatividad por medio del papel, les tengo este enlace donde se encuentra una colección de modelos para armar, con el tema de diversas unidades de Advance Wars, la serie de juegos de estrategia que nació originalmente en el antiguo NES (aunque los jugadores americanos solo la conocieron hasta la aparición del GBA).
Entre las unidades se encuentran Orange Star Medium Tank y el Blue Moon Armored Personnel Carrier. Además de estos trabajos, realizados por Ninjatoe's Papercraft, se encuentran otros diseños como el Going Merry de la serie One Piece. Me enteré de su existencia vía Kotaku.
Además de estos modelos, también se encuentran disponibles otros más en la página GotOrion. Estos ya estaban ahí desde hace un buen tiempo: al menos desde principios del año pasado sabía de su existencia, y había guardado (entre otros cientos que tengo), por lo que prácticamente me había olvidado de éste. Hay modelos de Mario, Yoshi, Ness, Red Pikmin e incluso de James Bond (supongo que por Goldeneye).
Como habrán notado, entre los modelos anteriores brilla por su ausencia Link, el protagonista de la serie The Legend of Zelda: pero menos mal que aqui tengo un artículo de Siliconera, donde aparece el modelo, aunque de su encarnación de TLOZ: Wind Waker.
Como un plus, les dejo un modelo del Príncipe del Cosmos, de la serie de Katamari Damacy: no tiene mucho que ver con Nintendo, más que una que otra aparición especial, pero cae simpático el personaje.