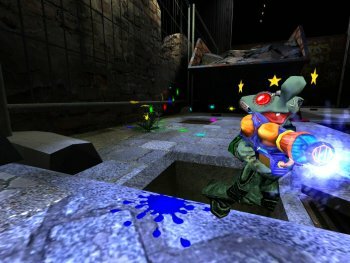 Antes de que hagan memoria, si, ya había escrito brevemente antes acerca de World of Padman (PC), un mod bastante bien hecho con el motor de Quake III Arena (PC). El caso es, que en aquella ocasión, el juego todavía dependía para funcionar del famoso título de Id Software, pero en base a su propio esfuerzo, el equipo desarrollador ha logrado que se transforme en un First Person Shooter hecho y derecho (standalone)
World of Padman es un FPS enfocado a toda la familia, y ahora esta disponible la versión 1.1 para descarga sin ningún costo. Es más, fieles a la tradición del Software Libre, los desarrolladores han puesto a dispocisión de cualquier interesado el código fuente de su creación, lo que permitirá crear proyectos semejantes o hacerle infinidad de modificaciones al juego, que redundarán en beneficios perfeccionándolo y llevándolo por otros caminos (que muy probablemente nadie se imaginaría).
En del sitio web oficial puede descargar la última versión (550 MB), desde diversas locaciones. Esta disponible para computadoras con MS Windows, Linux y MacOSX y hay un listado al final del anuncio con la dirección de los servidores para participar en partidas multijugador.
Creo que este FPS esta en camino de convertirse en uno de los más populares a través de la Red de Redes, como otros títulos también gratuitos. El más reciente trailer pueden apreciarlo en .