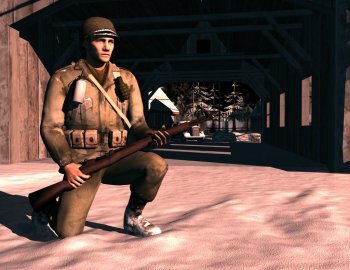 Claro, durante la Conferencia de Nintendo en el E3 2007, se habló brevemente de este juego, pero no se había dado a conocer aún de manera oficial. Pero ahora Electronic Arts decide formalizar el asunto y anuncia la llegada de Medal of Honor Heroes 2 a Wii y PSP, declarando que la versión para la consola de la Gran N será compatible con la nueva Wii Zapper presentada por la compañía.
Tanto la versión de Wii como la del PSP contarán con una campaña para jugadores solitarios, pero también permitirán combates entre varios participantes, hasta llegar al número de 32, donde los jugadores serán capaces de unirse a las batallas en cualquier momento. Sin embargo, Wii contendrá un modo de juego especial exclusivo, estilo rail-shooter, enfocado en jugadores no muy experimentados, aunque por el momento es desconocido que tanto porcentaje de Medal of Honor Heroes 2 estará comprendido.
Al menos la versión anterior para el PSP era buena, así que esperemos que la secuela no la desmerezca: y sería deseable que la capacidad extra de Wii sea explotada de manera adecuada. Me enteré de este información vía este artículo de Gamasutra. Veamos que tanta competencia le da a Brothers in Arms: Double Time de Gearbox Software y Ubisoft.