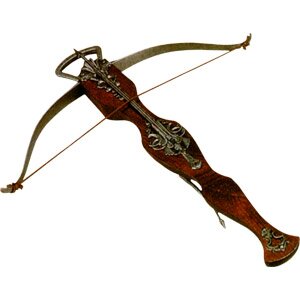 Incredulidad pura y dura fue lo que sufrí ayer en la noche cuando me enteré vía que Nintendo había revelado durante una conferencia de GameSpot y EB Games realizada en Las Vegas, Nevada, que la Wii Zapper será vendida en conjunto con un juego de regalo. No el multirumorado Duck Hunt, sino nada menos que un nuevo spinoff de The Legend of Zelda, llamado… Link's Crossbow Training. Desde ese momento, las especulaciones comenzaron: que si era una mentira, una noticia de broma, que Nintendo había equivocado el camino y quien sabe cuantas cosas más.
Pero la noticia esta plenamente confirmada por la mejor de las fuentes: la propia Gran N, que por medio de un comunicado oficial da detalles acerca del juego, que junto con la Wii Zapper costará la módica suma de USD$19.99 y saldrá a la venta el 19 de noviembre de este mismo año. Las gráficas y ambientación de Link's Crossbow Training son tomadas directamente de TLOZ: Twilight Princess (Wii/GCN), y el jugador toma el rol del héroe Link, quien debe de recorrer una serie de pruebas para perfeccionar sus habilidades con la ballesta (ballesta, que no arco). Al principio las pruebas son sencillas, como disparar a objetos estáticos como los clásicos blancos (bulls-eye), pero conforme se avanza, estos son cambiados por objetivos móviles y al final contra todo tipo de enemigos.
En el comunicado también se menciona los títulos que serán compatibles con la Wii Zapper, como son Medal of Honor Heroes 2 de Electronic Arts, Resident Evil: The Umbrella Chronicles de Capcom y Ghost Squad de Sega. Como es de esperarse, por hay rasgaduras de vestiduras por todos lados, pero mejor hay que conservar la calma: los spinoffs de series famosas siempre han existido y el último que recuerdo es Metroid Prime Pinball (NDS), que también provocó revuelo cuando fue anunciado, pero fue bien recibido por la crítica y los fans de la serie.